Renso Tamse
Renzo Tamse, born in 1974 in the city of Rotterdam, was already drawing and painting at the tender age of four. As far back as he can remember, his sole ambition was to be an artist. It was the natural world which most excited his interest. He found that his course at The Academy of Visual Arts, where the teaching was skewed to the abstract and modern, was less than inspiring. What spoke to Renso was realism -hence the impasse. The overriding passion of this urban artist is to capture the mystical resonances of nature in the wild.
In order to understand and experience these wild habitats more profoundly, he is a regular traveller to North America, Great Britain, Switzerland, Germany, Scandinavia and the Pyrenees. The fairytale woods of the Czech Republic likewise count among his favourite destinations; here, the flora and fauna prove to be an inexhaustible source of inspiration. Renso's creative juices can also be stimulated by such details as a tuft of moss, a piece of bark, or the whimsical form of a tree. He considers it a challenge 'to make something captivating out of what appears uninteresting at first sight'. In the composition of his paintings, this wildlife artist pays a lot of attention to accurate draughtsmanship in the representation of animals. ''The anatomy just has to be right. Then I think it's at least as important that the painting has life. I try to inject soul into my work.'' That's why, after making a sketch, Renso starts with the head of an animal.
He paints in ordinary watercolour on board. First of all, water or a light colour-wash is applied with a sponge. Once dry, this makes the paint easier to work. This technique leads to truly amazing results. In Renso's work, the hand of the artist is instantly recognisable. His paintings richly reward multiple viewing; the artist certainly does not reveal all his secrets at a stroke. A close study of his paintings yields up some surprising discoveries.
''Like so many other artists, I have yet to paint my best work.'' It is this self-criticism that spurs him on to keep tackling new subjects. Renso doesn't load his watercolours with a specific message; he nonetheless entertains the hope that his work as an artist will get people of all ages thinking and they will come to the realisation that the natural world must be protected.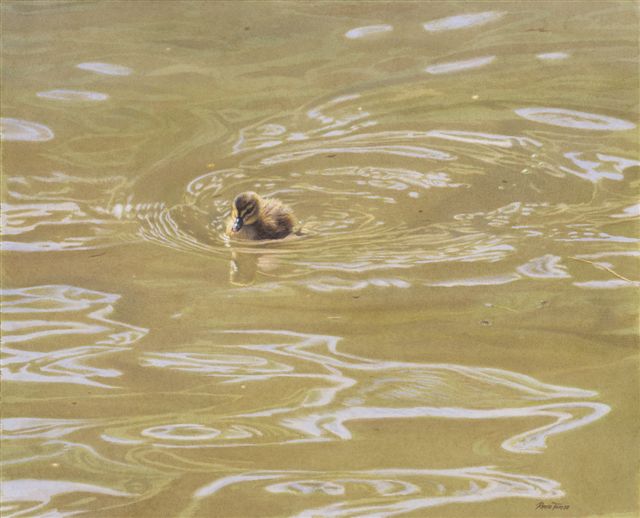 Mallard (Anas platyrhynchos)

Young ducklings are absolutely cute and they bring a smile on everyone's face when they swim or toddle by. But many of them fall prey to predators. Pikes, herons, crows, gulls and many mammals like rats, for instance. That is the reason why ducks are producing so many eggs. Up to fourteen ducklings can follow their mum, all capable of swimming immediately after being hatched. Just a few remain alive, hence coming back to 'the circle of life'. In my youth I rescued and raised several disowned or abandoned ducklings, because I could not leave them to their fate. It still gives me a compassionate feeling when I hear peeping calls from a lonely duckling.


watercolour on board, (H) 40 x (W) 50 cm, excl frame. If you would like to purchase this original painting, please
email
us to check availability and details.

Northern Wren (Troglodytes troglodytes)

To see wildlife instantly is almost an impossibility. Animals keep hidden for fear of predators and humans. Fortunately not all animals have such fear for people. For instance you can easily approach a wren. Mostly you notice wren like a brown jumping pellet with a tilting tail between branches and shrubs but you can hardly see them properly. But hearing them is easy. They are real troublemakers. It is unbelievable for a little bird like a wren to make so much noise. But nonetheless it is eye-catching. An inspiring bird for my painting 'Early spring noise'.


watercolour, (H) 81 x (W) 46 cm, incl. frame. If you would like to purchase this original painting, please
email
us to check availability and details.